Lisbon, July 11, 2023 – Powerdot, one of the fastest-growing Charging Point Operators (CPO) in Europe, joins forces with Biedronka, the leading supermarket chain in Poland owned by the Portuguese group Jerónimo Martins, to equip 600 store parking lots with fast chargers for electric and hybrid cars by the end of 2024. Each unit will be capable of simultaneously charging up to three cars, and all chargers will be implemented by the Portuguese company Powerdot. The two companies expect the first stations to be inaugurated in Warsaw in the coming weeks, with 150 devices being available for public use this year and the remaining 450 being implemented nationwide throughout 2024. The joint initiative of Biedronka and Powerdot represents an unprecedented project in terms of scale and power, aiming to build the largest direct current (DC) electric car charging system in Poland. The project brings Portuguese expertise in this field to Poland and will result in a tripling of the currently existing infrastructure for fast charging of electric cars in the country within just a few months. Each available charger at selected Biedronka stores will have a power of 120 kW, enabling users to quickly and conveniently charge an average electric car in about 20-30 minutes, suitable for the typical shopping trip to a nearby store. After being charged at the specific DC device, the car will be ready to travel an average distance of about 200 km. Under this program, all chargers implemented by Powerdot will be equipped with three types of connectors: CCS, ChaDemo, and Type 2, allowing for the charging of virtually any electric car and plug-in hybrid. Charging a vehicle at Biedronka stores does not require creating an account, using a specific mobile application, or paying any subscriptions.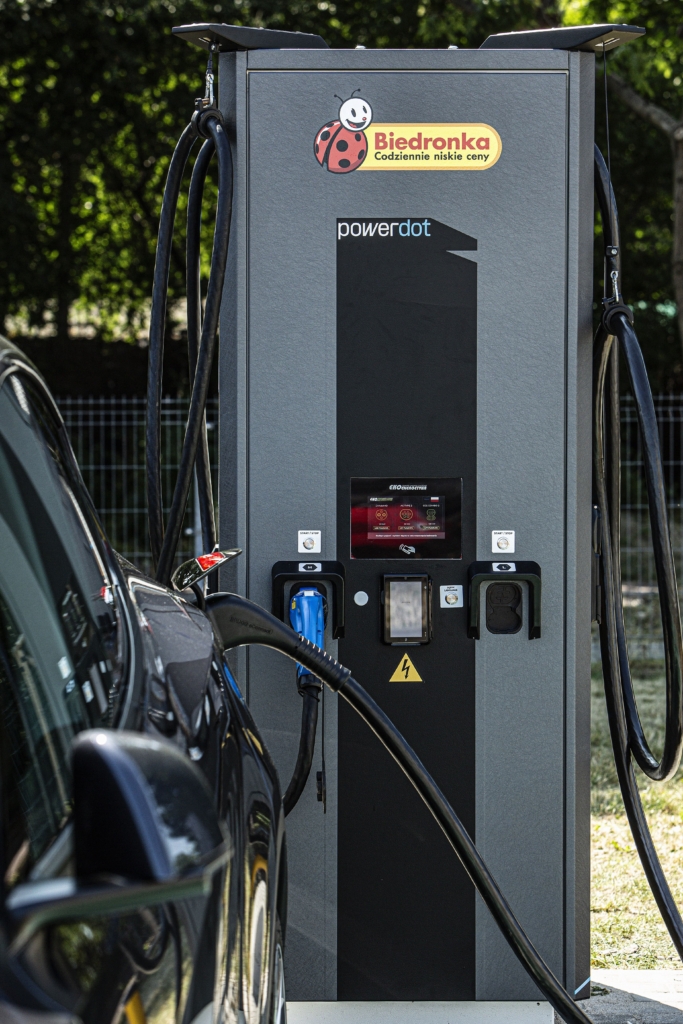 "We are thrilled to announce this project that brings together two companies with Portuguese roots and will make the charging network available in Poland to everyone embracing sustainable mobility. At Powerdot, we take the concept of destination charging seriously, and this is another large-scale implementation that will bring convenience to EV users in the country, allowing them to charge their cars while doing other daily tasks easily," explains Luís Santiago Pinto, CEO of Powerdot.
"This unprecedented investment program aims to provide a charging network in Poland for all those seeking it, especially for residents of small and large cities. Electric vehicle drivers in Poland suffer from a shortage of fast chargers of at least 100 kW, and we intend to fill this gap with our widely available superchargers immediately. This project is aligned with the idea of destination charging, which is a pan-European growth axis for Powerdot, i.e., charging the car during the execution of daily tasks," says Grigoriy Grigoriev, General Manager of Powerdot in Poland and CEE.
Biedronka has chosen Powerdot as a strategic business partner for this project in Poland, where the charging point operator will be responsible for the maintenance and operation of the chargers in terms of energy sales, payment processing, necessary software, and a 24/7 support center. With approximately 3,500 stores throughout Poland, Biedronka belongs to the Portuguese group Jerónimo Martins and is the leading retailer in the country.